Concept 36: Different genes are active in different kinds of cells.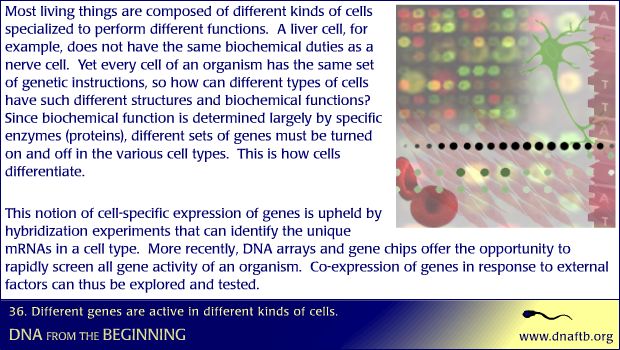 Cells differentiate because specific enzymes turn genes on and off in various cell types.
Most living things are composed of different kinds of cells specialized to perform different functions. A liver cell, for example, does not have the same biochemical duties as a nerve cell. Yet every cell of an organism has the same set of genetic instructions, so how can different types of cells have such different structures and biochemical functions? Since biochemical function is determined largely by specific enzymes (proteins), different sets of genes must be turned on and off in the various cell types. This is how cells differentiate. This notion of cell-specific expression of genes is upheld by hybridization experiments that can identify the unique mRNAs in a cell type. More recently, DNA arrays and gene chips offer the opportunity to rapidly screen all gene activity of an organism. Co-expression of genes in response to external factors can thus be explored and tested.
dna arrays, different types of cells, gene chips, liver cell, nerve cell, hybridization experiments, genetic instructions, gene activity, enzymes, genes, organism, proteins, notion, expression
ID: 16735
Source: DNALC.DNAFTB