DNA microarray output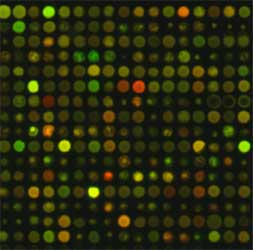 DNA microarrays provide the means to analyze patterns of gene expression at different timepoints in a living cell.
DNA microarrays These glass slides have thousands of short DNA strands attached to their surfaces. Like gene chips (right), they can be used to determine which genes are active in different cells. DNA microarrays are used by cancer researchers to study the biology of tumor cells. Stanford University biologist Patrick Brown developed the microarray, a glass slide imprinted with DNA "ink" that is used to analyze an entire genome.
dna microarray,dna strands,dna rna,dna screening,university biologist,gene chips,glass slides,cancer researchers,dna microarrays,stanford university,tumor cells,glass slide,gene expression,genome,genes,large scale,biology,surfaces
ID: 15542
Source: DNALC.DNAi