DNALC NYC Exhibition
What DNA Says About Our Past and Future
Development of a permanent exhibition is underway at our Brooklyn location. Funded by a grant from Cold Spring Harbor Laboratory Trustee Paul Taubman, it will be the culmination of our work to popularize personal genetics for students and to present a hopeful message of genetics in our lives.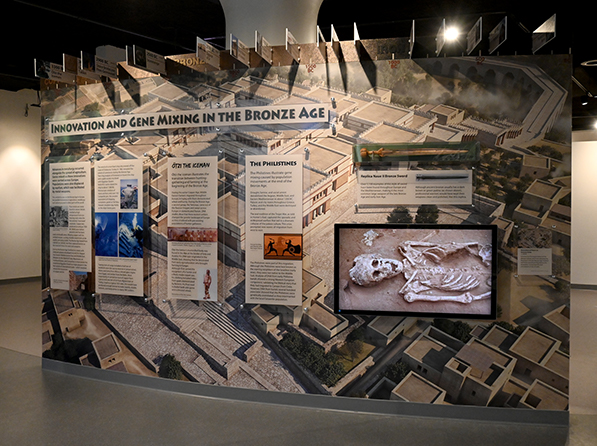 The What DNA Says About Our Past and Future exhibition takes a side door into issues of social justice by emphasizing that "knowledge of our shared genetic ancestry is the best inoculation against racism." The DNA of any two people is 99.9 % identical; racial and ethnic differences acquired as we peopled the globe are, indeed, only "skin deep." By capitalizing on current interest in ancestry, we want to make DNALC NYC a destination for people who want to incorporate DNA into their family exploration.
Innovation and Gene Mixing in the Bronze Age
We have completed the first display area, "Innovation and Gene Mixing in the Bronze Age."
Two case studies—Ötzi the Iceman, from 3300 BC, and the early Philistines, from 1200 BC—examine how innovations in agriculture, animal husbandry, international trade, and metallurgy mixed genes in Eurasia.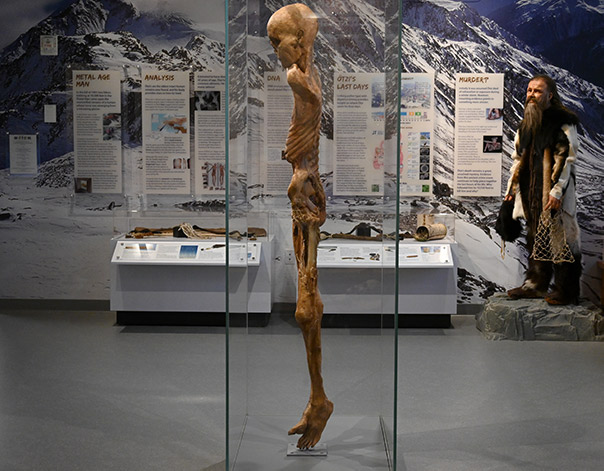 Ötzi the Iceman
In the fall of 1991, two hikers in came upon the mummified remains of the 5,300 year old man. Ötzi has become one of the most researched mummies since; from his health, to clues surrounding his death, to what he ate, to what he carried. A replica sculpture of the Ötzi mummy invites visitors to the gallery and an imagined model of a living Ötzi—dressed in replicas of his coat, leggings, and shoes—is also displayed.
Ötzi the Iceman lived in the Ötztal Alps at the beginning of the Bronze Age and illustrates the transition from hunting-gathering to farming. Although he had the tools of a hunter, his DNA type originated in the Middle East—showing that he descended from early agriculturalists who brought farming to Europe.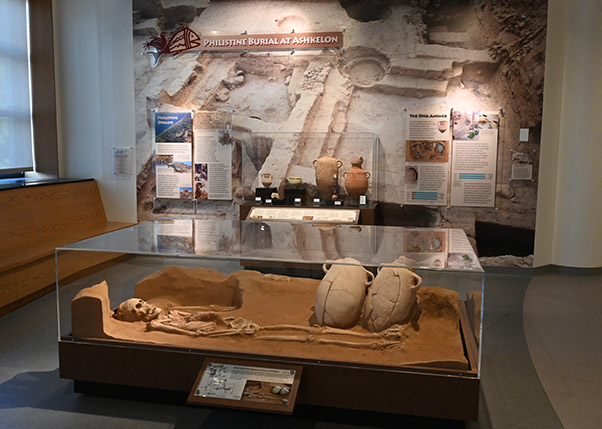 The Philistines
The opposite end of the gallery revolves around events in Ashkelon, Israel at the end of the Bronze Age and into the ensuing Iron Age. The Leon Levy Expedition to Ashkelon took place over 20 years and uncovered the first discovered Philistine cemetery. Expedition archaeologists, including Daniel Master (Wheaton College) and Adam Aja (Harvard Museum of the Ancient Near East), performed DNA analysis from graveyard skeletons. Results validated oral tradition that the original Philistines were migrants from Minoan Crete. However, it also showed that the Philistines were genetically assimilated into the local Canaanite population within several hundred years of their arrival! A life-sized sculptural recreation of a Leon Levy Expedition Philistine burial from 900–750 BC is featured alongside eight pieces of authentic Philistine pottery from the expedition, loaned by the Israel Antiquities Authority.
Visit the Museum
62 Tillary Street, Brooklyn, New York 11201 [Directions]
At this time, public tours featuring Ötzi the Iceman are only available on select Saturdays during the academic year. When available, tickets are reserved through Eventbrite; only ticket holders will be admitted to the exhibit. Tours are 1-hour long.
---
Group Tours
Have a troop of scouts, lead a science or history club, or organize a senior group?
Call 516-367-5170 to schedule a 1-hour guided tour for a group.
Cost is $8.50 per person and can be scheduled beginning at 10:00 am and concluding by 4:30 pm, weekdays.