We offer up-to-date teacher training through biology workshops and development for teachers in genetics and biotechnology. With federal and private foundation funding, we offer these free workshops to high school and college educators, especially those in the areas of genetics, biology, genomics, and bioinformatics.
Maize Annotation Jamborees
The NSF-funded MaizeCODE and Gramene host maize genome annotation jamborees for PUI faculty.
Maize is one of the most important crops in the world. Its genome sequence is the foundational resource for improving yield and adapting maize to environmental and biological challenges. Even though the fourth-generation maize genome assembly is supported by abundant RNA-based evidence, many gene models still need to be examined and corrected by a human being – that is, hand annotated! The NSF-funded MaizeCODE and Gramene projects have developed a system to identify genes in need of curation. Our objective is to train faculty to use simple genome annotation tools and to lead maize annotation projects as course-based undergraduate research experiences (CUREs). In this way, students can contribute to the improvement of the maize genome. At the same time, gene annotation is the best way for students to learn about gene and genome structure and function.
Jamboree participants are undergraduate teaching faculty with sincere desire to involve students in authentic research projects and to contribute to the improvement of the maize reference genome. Basic bioinformatics skills, familiarity with genome annotation and databases (such as Gramene and MaizeGDB), or in-depth knowledge of maize biology are desirable.
At the workshop faculty learn how to annotate a set of target genes using a genome annotation web editor, amplify target genes from available c-DNA libraries, and sequence them to validate predicted gene models.
Faculty who complete the jamboree will receive scholarships toward travel, room, and board. They receive year-round mentoring and support from project co-PIs and researchers as consultant as they implement annotation CUREs. Webinars provide support, allow students to share results, and seek consensus on difficult gene models. Those implementing CUREs receive free reagents to amplify target genes from available c-DNA libraries and DNA sequencing for student research.
2020 Jamboree date to be announced
Audience: PUI faculty
Visit Maizecode.org for more information
With funding from NSF's Improving Undergraduate STEM Education Initiative, Cold Spring Harbor Laboratory's DNA Learning Center (DNALC), in collaboration with New York City College of Technology (City Tech), Bowie State University (BSU), and James Madison University (JMU), offers a free five-day workshop on DNA Barcoding Course-based Undergraduate Research Experiences (CUREs).
Just as the unique pattern of bars in a universal product code (UPC) identifies each consumer product, a "DNA barcode" is a unique pattern of DNA sequence that identifies each living thing. DNA barcoding provides a powerful way for biology faculty to lead CUREs, which have been shown to increase student retention and success when provided early in undergraduate programs. Barcoding integrates big ideas from molecular biology, genetics, bioinformatics, ecology, and biodiversity—while at the same time providing the flexibility to address a variety of student-driven questions. Barcoding can be mastered in a relatively short time, allowing students to generate new data and reach a satisfying research endpoint within a single course. Furthermore, undergraduate students often have limited patience for bioinformatics, and DNA barcoding provides a wet-lab or field-based "hook" to increase engagement.
Workshop participants learn all the biochemical and bioinformatics techniques required for DNA barcoding, including the use of the DNALC's sample database and sequence analysis tools. The workshop also incorporates seminars that introduce key concepts ("big ideas"), CURE development, management and evaluation, data science, methods to work with diverse student populations, workforce development, and details about the project. Seminars include insights from project co-PIs, including DNALC's barcoding experts; faculty leading JMU's two-semester core curriculum sequence, which engages 800 students and 20 instructors in DNA barcoding each semester; and City Tech and Bowie State faculty who lead DNA barcoding with diverse student populations. The competencies required for bioinformatics, genome science, and biological data sciences are also presented. Finally, faculty are introduced to metabarcoding—the use of high-throughput sequencing to identify all of the species in a mixture.
Faculty who complete the workshop receive travel support, a stipend, and have year-round mentoring and support from project co-PIs as they implement barcoding CUREs. Those implementing CUREs receive free reagents and DNA sequencing for student research. They are also eligible to attend future workshops on metabarcoding as part of the project. Select faculty will be invited to mentor other faculty, building a network of educators implementing DNA barcoding CUREs.
Faculty are asked to participate in a series of evaluation activities throughout the project, beginning with workshop evaluation. Faculty who go on to implement CUREs are enrolled in additional evaluation activities centered on their experiences as well as those of their students. Select schools will be asked to participate in additional longitudinal evaluation of students.
Candidates should be undergraduate teaching faculty with a sincere desire to involve students in authentic research projects, especially in CUREs for students in introductory courses.
2020 workshop dates to be determined

Audience: Undergraduate Faculty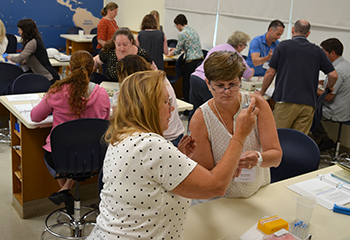 Sites of Major DNALC Faculty Workshops, 1985-present
This map shows the locations of the DNALC's faculty workshops taught over more that thirty years.
Open the map key map key to show/hide the years in groups of three. Click the check boxes to show or hide the years. Click the dots for information on host institution, year, and instructional level of participating faculty. Map can be opened full screen in a separate browser window by clicking the full screen icon at the upper-right.