It is critical to document where species live, how they move, and to determine which are in decline. This effort is beyond the ability of scientists working alone. Until recently, taxonomic classification for most species required experts capable of evaluating the differences between them. This changed with the advent of DNA barcodes, which allow non-experts to make objective identifications.
Citizen scientists can amplify the number and locations of observations well beyond the capabilities of expert scientists—and provide an early-warning network to alert experts to unexpected findings. Involvement in citizen science allows participants to gain an understanding of science while also empowering them through this new knowledge and their contributions. Citizen scientists also learn critical thinking skills needed to assess conflicting claims or new scientific discoveries.
DNA Barcoding 101 includes experimental methods and resources for using DNA barcoding to identify plants or animals or products made from them.
Also funded by the National Institute of General Medical Sciences of the National Institutes of Health, the Citizen DNA Barcode Network (CDBN) engages community research teams as they use DNA barcoding to explore biodiversity in their area. We will work with the New York Hall of Science and Long Island chapters of the Audubon Society and Nature Conservancy to perfect methods to work with citizen scientists in informal settings. We will also develop a mobile exhibit that introduces DNA barcoding to monitor biodiversity. Then we will extend these methods to science centers and citizen conservation groups across the country. In addition to ants, this distributed biodiversity "campaign" will focus on beetles, which are abundant indicators of ecosystem change, and mosquitos, which are important vectors of human disease.
Learn More about Citizen DNA Barcode Network
Mentors: DNALC-trained leaders
Participants: Community members
Region/Scope: Campaign-based biodiversity study of US
Project Hub: Dolan DNA Learning Center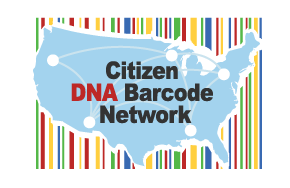 With funding from the National Institute of General Medical Sciences of the National Institutes of Health, the DNA Learning Center launched a pilot project, Barcoding US Ants, to show the feasibility of citizen scientists using DNA barcodes to identify and map the ant species of the United States. Barcoding US Ants merges citizen science with DNA barcoding to improve range maps for the ants of the United States. Citizen scientists collect and identify ants at locations throughout the US by monitoring ants' ranges and contribute to data that reveals responses to climate change or the movement of invasive species. Current range maps are fragmentary, and DNA barcodes exist for only half of the 900 species known species of ant in the US. Additionally, sequence variation within species may also be discovered and reveal species diversity or allow tracking of sub populations. Thus, this project can contribute new, valuable knowledge about an important group of insects that is both familiar and unknown, and aims to publish several hundred DNA barcodes to GenBank, the authoritative DNA database.
Mentors: Team leaders
Participants: Community members
Region/Scope: Biodiversity study of the US
Project Hub: Dolan DNA Learning Center and regional