Inside Cancer

Flash animation technology is no longer supported by web browsers. Inside Cancer was built using Flash and we have installed the open-source Flash emulator, Ruffle, on Inside Cancer, making most content available. In addition, much of the animation and video content is available in the Resources section of this site. If there is content you can no longer find, please email dnalc-it@cshl.edu. Unfortunately due to site structure, much of Inside Cancer Teacher Center does not function.
Inside Cancer is a multimedia site for teachers, students, and family members who want authoritative information on the biology of a cancer cell. Inside Cancer was funded by a National Institutes of Health Science Education Partnerships Award (SEPA).
The content is broken into four modules:
Hallmarks of Cancer emphasizes cancer as a genetic disease and highlights the common features or "hallmarks" of a cancer cell.
Causes & Prevention uses epidemiological data to highlight behaviors and environmental factors that increase cancer risk, and examines the molecular mechanisms that lead to cancer development.
Diagnosis & Treatment shows how new molecular techniques are being used to diagnose and tailor cancer treatment according to specific genetic changes in the patient's tumor.
Pathways to Cancer is a 3-D animated tour of a cell that focuses on the signaling pathway through which growth commands are transmitted from cell surface to the nucleus.
All modules are linked through a "molecule menu" that acts as an index/glossary for quick reference information on specific genes and proteins involved in oncogenesis.
---
Inside Cancer Teacher Center
[RETIRED]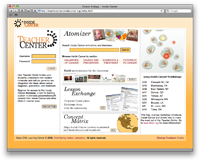 Teacher Center includes Atomizer, a tool that allows teachers to create custom presentations with Inside Cancer content, Lesson Exchange, a wiki for developing and exchanging lesson plans, and Concept Matrix, local and nationals standards alignments.