Regeneron DNA Learning Center
Teacher Professional Development in Genetics and Biotechnology
Join us at Regeneron to experience Bacterial Transformation and DNA Restriction Analysis:
Bacterial Transformation
This experiment illustrates the direct link between an organism's genetic complement (genotype) and its observable characteristics (phenotype). Students introduce a gene for antibiotic resistance into the bacterium E. coli. Following overnight incubation, transformed bacteria are compared to unexposed bacteria for their ability to grow in the presence of ampicillin.
DNA Restriction Analysis
This experiment demonstrates that DNA can be precisely manipulated and that it behaves as predicted by the Watson-Crick structure. Students use restriction enzymes, the scissors of molecular biologists, to cut DNA from the bacteriophage lambda. The resulting DNA fragments are analyzed by agarose gel electrophoresis.
These experiments directly correlate with lab requirements for Living Environment and AP Biology courses and align with the New York State Science Learning Standards, with an emphasis on analyzing and interpreting data, planning and carrying out investigations and the structure and function relationship. Guided by an experienced DNALC Educator, training will focus on lab skills, conceptual connections, and classroom implementation
Participants will receive a Certificate of Completion and CTLE hours.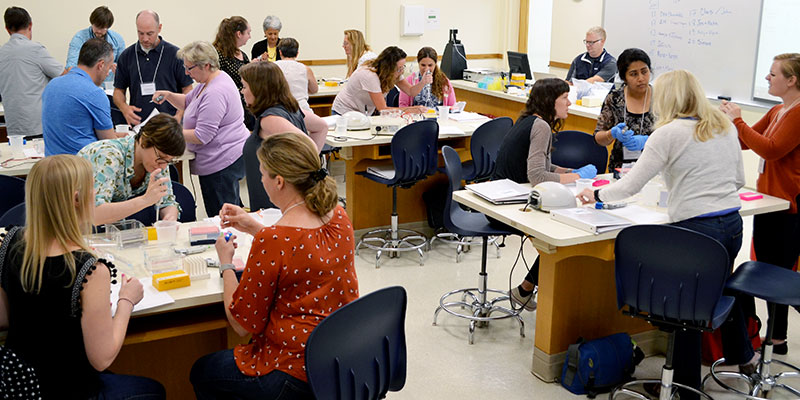 Tuesday, November 5, 2019
8:00 am–2:00 pm
Regeneron Building 6,
745 Old Saw Mill River Road.
Tarrytown, New York 10591
Audience: High school and middle school educators
Free
Register
Teacher Information Session
Come to the Regeneron Tarrytown campus for snacks and information about our exciting new collaboration with Regeneron Pharmaceuticals, Inc. Learn about our programs and take a tour of the Regeneron Genetics Center!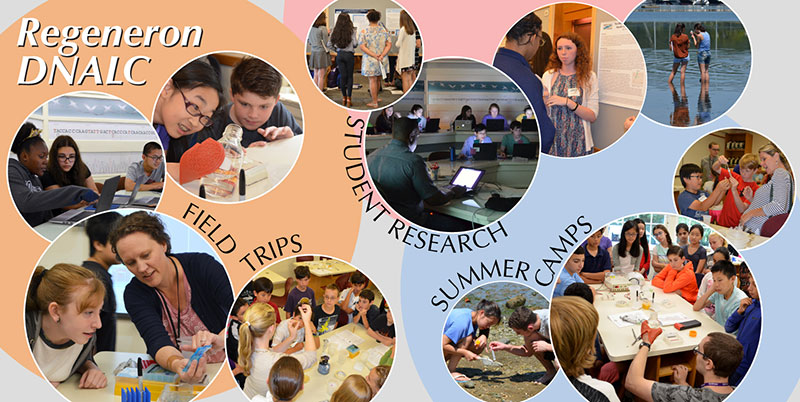 Additional information session dates to be determined
Audience: High school and middle school educators